Whether you are looking for repair leaking skylight services or any other type of roofing work, Golden Hands Construction is a top-notch company that provides quality roofing and other home and business work. our family-owned company is committed to customer satisfaction and provides competitive pricing and quick completion times. However, many Long Island Ny homeowners enjoy DIY skylight installation. So, below is some helpful information on the topic. Still, call us or fill out the form below today for assistance from a professional.
Repair Leaking Skylight or New Install
Whether you have a skylight that leaks or need a new one installed, Golden Hands Construction has you covered. We offer top-of-the-line customer service, competitive pricing and quick completion times. You can trust them to repair your leaking curb mounted skylight.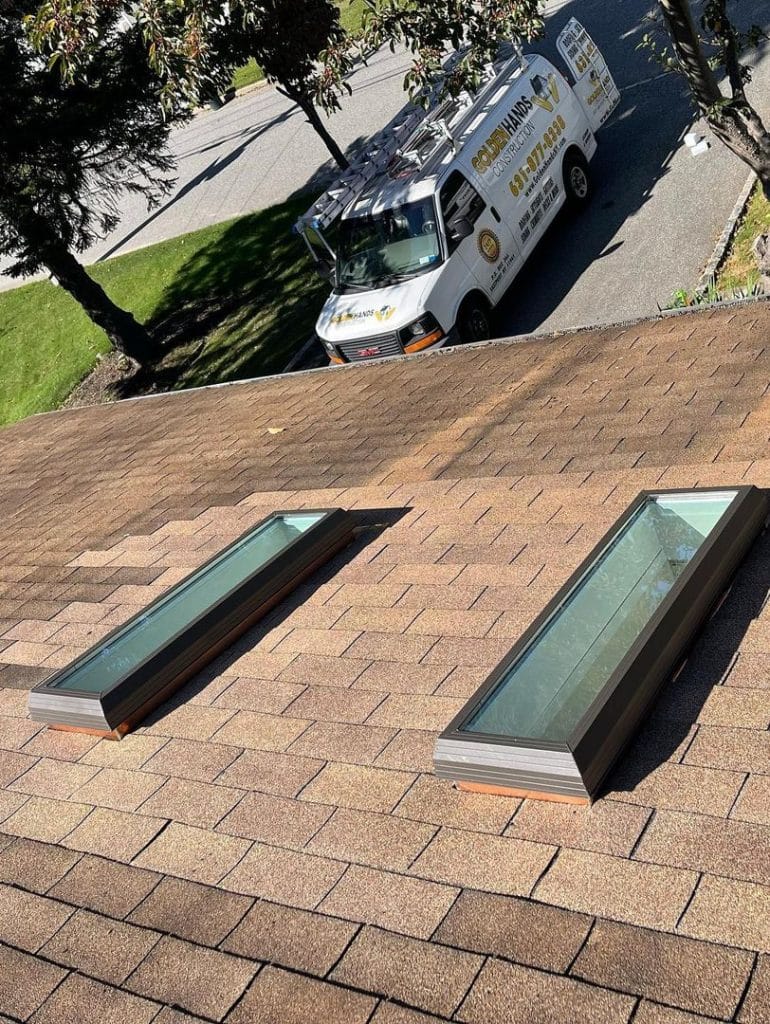 DIY New Skylight Install
Installing a new skylight can be complicated. You need to properly secure it to the roof and to the roof sheathing. You may also need to reroute plumbing and electrical wires. You may also need a permit. This is not something you want to take on yourself. It's best to hire a contractor who is able to do all of these things.
Before you begin, measure the width and height of your roof run. If you don't have a ruler, use a level and a bubble to get a level line. Then, use a tape measure to measure from the mark to the underside of the roof.
Change the size of the frame
Keeping your shingle or perch in tip top shape is a full time job in itself. The best way to keep your skylight in mint condition is to employ the services of a professional skylight specialist. The best way to do this is to find a local skylight service provider, read up on their services and their history in the industry, and you'll be in good hands in no time. The cost to hire a skylight specialist varies by location, but the reward is worth it in the long run. The skylight specialist is a one stop shop for all your skylight needs. From installing new windows to repairing old ones, the skylight specialist is the best person to call. The skylight specialist specializes in installing and repairing skylights, as well as supplying quality awnings, windows and doors, at reasonable prices.
Replace caulking and vent flashing
Having a roof window that leaks is not an experience most of us are lucky to have. If you are fortunate enough to have a roof that isn't made of plastic or metal, you may have to shell out some cash to get it fixed up. As a general rule of thumb, you can expect to pay between $385 and $1,150. If you are lucky, your insurance may cover the bill.
The best way to get your skylight repaired is to find a reputable company with a stellar reputation. We will be able to provide you with a free estimate. Most pros will charge $35 to $65 per hour. This should be enough to cover the cost of materials, which can run the gamut.
You should also take a look at your insurance policy. Your homeowner's insurance may be able to cover the cost of fixing a leaky roof window.
Find the root cause of the leak
Whether you have a skylight that leaks or not, it is important to find the cause of the leak and fix it. This is because a leaky skylight can cause damage to items below the skylight. Whether it is from plain old condensation or a skylight that is leaking due to a faulty frame or motor, there are ways to fix it.
The first thing you should do is to contact your insurance provider. If your insurance policy covers storm damage, the repair will usually be covered. If you don't have insurance, you will need to cover the cost of the repairs yourself. It is important to note that many plans cover falling tree branches.
Another thing to consider is the accessibility of the skylight. If you are unable to reach the roof, the cost of sealing will be higher. The higher the skylight, the more difficult it will be to access it. This can increase the overall cost of the repair by 30 percent.