Skylight Replacement Services Near East Quogue
Introduction
At Golden Hands Construction, we understand the importance of having a well-maintained skylight. Skylights not only enhance the aesthetic appeal of your home or commercial building but also provide natural light, improving the overall ambiance. When your skylight starts to show signs of wear and tear, it's crucial to seek professional skylight replacement services near East Quogue. Our team of skilled and experienced technicians is here to help you with all your skylight replacement needs.
Signs You Need Skylight Replacement
Skylights, like any other part of your building, have a limited lifespan and can deteriorate over time. Here are some signs that indicate you may need skylight replacement services near East Quogue:
Leakage: If you notice water stains or dripping water around your skylight, it's a clear indication of a leak. A leaking skylight can cause water damage to your property, leading to costly repairs.

Condensation: Excessive condensation on the glass of your skylight can be a sign of poor insulation or a faulty seal. This can cause mold growth and compromise the energy efficiency of your building.

Cracked or Damaged Glass: Cracks or damage to the glass of your skylight not only compromise its functionality but also pose a safety hazard. It's crucial to have them replaced to avoid any accidents.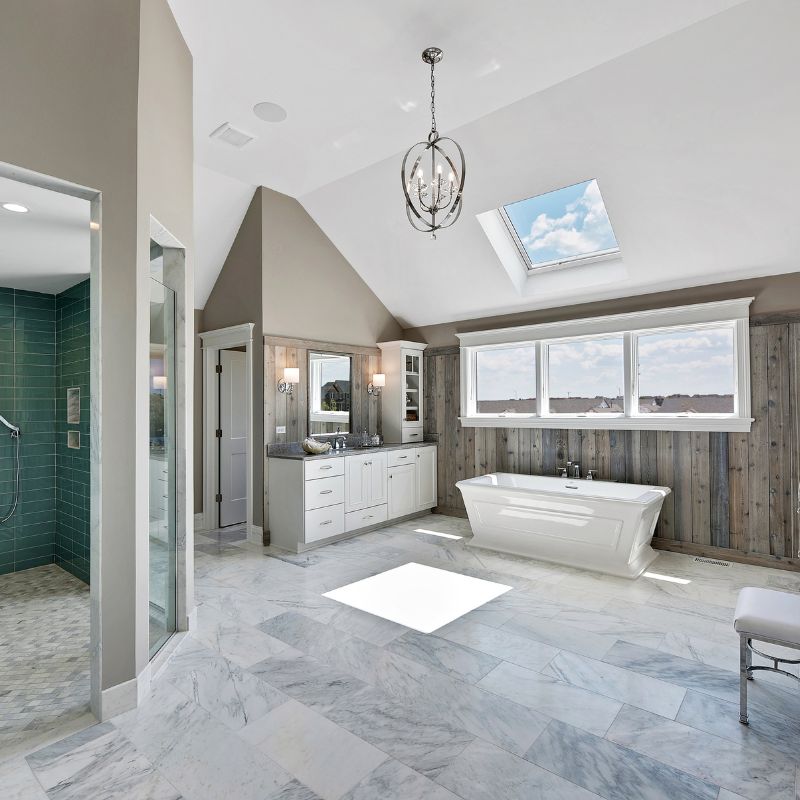 Our Skylight Replacement Process
When you choose Golden Hands Construction for skylight replacement services near East Quogue, you can expect a seamless and efficient process. Here's an overview of our skylight replacement process:
Initial Assessment: Our team will visit your property to assess the condition of your skylight and determine the best course of action. We'll provide you with a detailed estimate and timeline for the replacement.

Product Selection: We offer a wide range of high-quality skylights from reputable manufacturers. Our experts will guide you in selecting the right skylight based on your preferences, budget, and specific requirements.

Professional Installation: Our certified technicians will handle the installation process with precision and care. We ensure proper sealing and insulation to prevent any future issues.

Cleanup and Inspection: Once the replacement is complete, we'll thoroughly clean up the work area and inspect the newly installed skylight to ensure it meets our high standards of quality.
Benefits of Professional Skylight Replacement
Opting for professional skylight replacement services near East Quogue offers numerous benefits, including:
Enhanced Energy Efficiency: New skylights are designed with advanced insulation technology, helping to reduce heat loss or gain. This can lead to significant energy savings and a more comfortable indoor environment.

Improved Aesthetics: Upgrading your skylight can instantly refresh the look and feel of your space. You can choose from various styles, sizes, and finishes to complement your existing decor.

Increased Natural Light: A properly installed skylight can flood your interior with natural light, reducing the need for artificial lighting during the day. This not only saves on energy costs but also creates a more inviting atmosphere.
Why Choose Golden Hands Construction?
When it comes to skylight replacement services near East Quogue, Golden Hands Construction is the name you can trust. Here's why:
Experience: With years of experience in the industry, we have successfully completed numerous skylight replacement projects. Our expertise allows us to deliver exceptional results every time.

Quality Products: We only work with top-quality skylights from reputable manufacturers. This ensures that our clients receive durable and long-lasting solutions.

Professional Team: Our team of certified technicians is highly skilled and trained in all aspects of skylight replacement. We prioritize customer satisfaction and strive to exceed expectations.
Submit A Quote Request Below –
If you're in need of skylight replacement services near East Quogue, look no further than Golden Hands Construction. Contact us today at 631-877-8338 or visit our website at https://goldenhandsny.com to learn more and schedule a consultation. Trust us to provide you with superior skylight replacement services that will enhance the beauty and functionality of your space.