Roof Leak Repair Services Near Tuckahoe: Expert Solutions for a Watertight Roof
Introduction
If you are a homeowner in Tuckahoe, NY, dealing with a roof leak can be a stressful and overwhelming experience. A leaking roof not only compromises the structural integrity of your property but can also lead to costly repairs and potential health hazards. Golden Hands Construction, your trusted local roofing contractor based in Southampton, NY, is here to provide you with expert roof leak repair services near Tuckahoe. With our extensive experience, skilled team, and commitment to customer satisfaction, we offer effective solutions to ensure your roof remains watertight.
Assessing the Roof Leak
Before proceeding with any repair work, it is crucial to accurately assess the roof leak. Our skilled technicians will visit your property in Tuckahoe and conduct a comprehensive inspection to identify the source of the leak. Using advanced tools and techniques, we will determine the exact cause of the problem, whether it be damaged shingles, faulty flashing, or an improperly installed skylight. Our thorough assessment allows us to provide tailored solutions that address the root cause of the leak, ensuring a long-lasting repair.
Tailored Repair Solutions
Once we have identified the cause of the roof leak, our expert team at Golden Hands Construction will develop a tailored repair solution specifically designed for your Tuckahoe property. Whether it is a minor repair or a more extensive fix, we have the knowledge and expertise to handle any roofing issue. Our team is trained in the latest industry techniques and uses high-quality materials to ensure a durable and effective repair. From replacing damaged shingles to resealing flashing, we have the skills to restore the integrity of your roof.
Timely and Efficient Repairs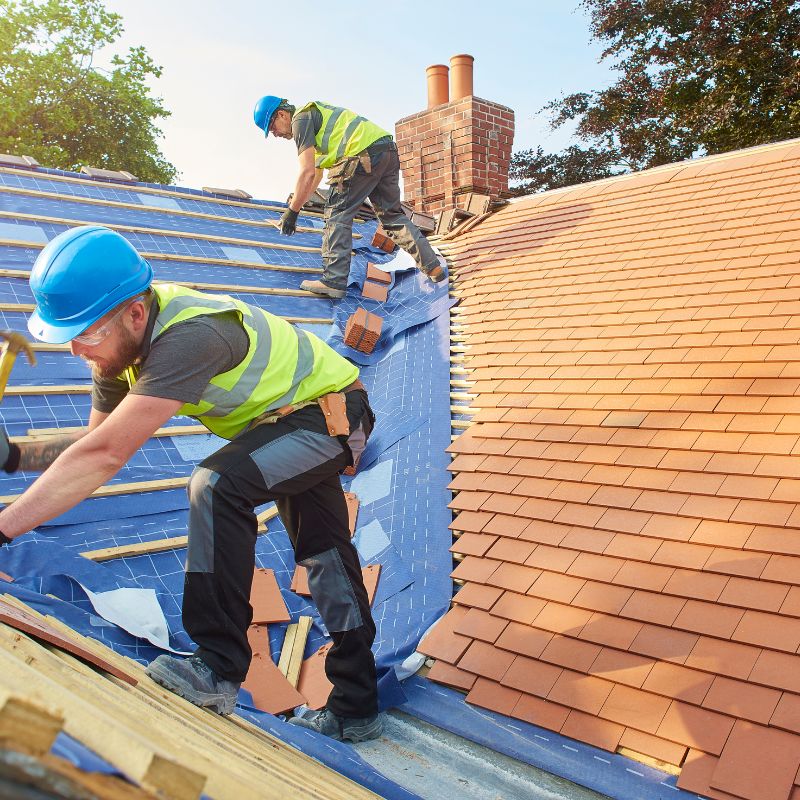 At Golden Hands Construction, we understand the urgency of roof leak repairs for homeowners in Tuckahoe. Delaying repairs can lead to further damage and costly repairs down the line. That is why we prioritize prompt and efficient service, ensuring that your roof leak is addressed in a timely manner. Our team will work diligently to complete the necessary repairs with minimal disruption to your daily routine. With our attention to detail and commitment to excellence, we strive to deliver top-notch service that exceeds your expectations.
Preventative Measures and Maintenance
In addition to providing top-quality roof leak repairs near Tuckahoe, Golden Hands Construction also emphasizes the importance of preventative measures and regular maintenance. Our team can perform routine inspections and maintenance tasks to identify and address potential issues before they escalate into major problems. By investing in regular roof maintenance, you can extend the lifespan of your roof and minimize the chances of future leaks. Count on us to provide expert advice and guidance on maintaining the integrity of your Tuckahoe property's roof.
Customer Satisfaction Guaranteed
At Golden Hands Construction, your satisfaction is our top priority. We take pride in delivering exceptional customer service and providing roof leak repair solutions that stand the test of time. Our experienced team is dedicated to professionalism, integrity, and transparency throughout the entire repair process. We strive to keep you informed at every step, ensuring that you understand the work being done and the associated costs. With our unwavering commitment to excellence, you can trust Golden Hands Construction to deliver the highest quality roof leak repair services near Tuckahoe.
Submit A Quote Request Below –
If you are experiencing a roof leak in Tuckahoe, NY, don't wait until the problem worsens. Contact Golden Hands Construction today for reliable and efficient roof leak repair services near Tuckahoe. Our team of skilled professionals is ready to assess, repair, and restore the integrity of your roof. With our dedication to customer satisfaction and commitment to quality workmanship, you can trust us to provide expert solutions that exceed your expectations. Don't let a roof leak compromise the comfort and safety of your home – let Golden Hands Construction be your go-to roofing contractor in Tuckahoe. Request a quote today and experience the Golden Hands Construction difference.